A $4,500 scholarship is available for application submissions by the final Spring 2024 December 4 deadline.
Online MBA Instruction +
In-person Residency Experiences
Our online Master of Business Administration (MBA) in Healthcare Management will help you build a network that supports your growth.
Are you ready to get started?
Two years of professional work experience required.
Online Master's in Business
With in-person residencies
2.5 Years
Average completion time1
GRE/GMAT Optional
MBA Scholarships
For early applicants2
Graduates will be ready to lead the future of healthcare.
At Case Western Reserve University, we offer an online Master of Business Administration in healthcare management that provides you with the core fundamentals you need in any field, with strategic application in the healthcare industry.
Leadership skills
Business acumen
Administrative excellence
Management skills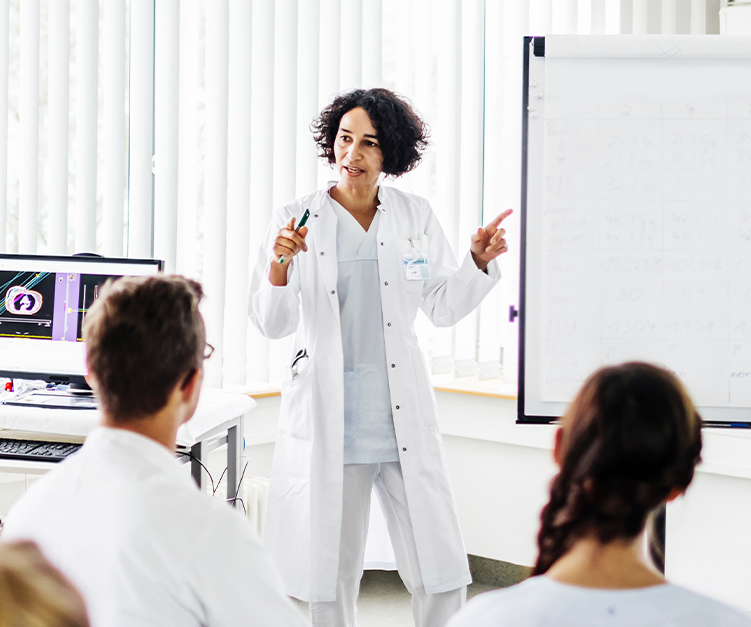 The support has been very personalized, with added touches to make the class feel like a community.

Jessica Kenney
Research Assistant, Memorial Sloan Kettering Cancer Center
New York, NY (Class of 2025)
Decide where your ceiling is and realize that an MBA from Weatherhead can raise it. Everyone can benefit from this program.

Andre Francis
N-Able LLC, CEO
Erie, PA (Class of 2025)
It is absolutely the right path for someone who wants to grow, no matter where you are within the spectrum of your career.

James Leaming
MD, Vice President of Medical Affairs and Staff Development
Penn State Health, Harrisburg, PA (Class of 2024)
Key Dates & Deadlines
Spring 2024
Early Application Deadline
October 9, 2023
$4,500 Scholarship Available
Priority Application Deadline
November 6, 2023
$4,500 Scholarship Available
Final Application Deadline
December 4, 2023
$4,500 Scholarship Available
Spring 2024 Start of Classes
January 8, 2024
Your Future in Healthcare Management Starts Here
#50
Part-Time MBA in the U.S.
(U.S. News & World Report, 2023)3
#11
Executive MBA Program in the U.S.
(Fortune, 2022)3
#14
Full-Time MBA in the U.S.
(America Economia, 2022)3
#44
Among National Universities
(U.S. News & World Report, 2022)3
Ready to learn from the experts to become a healthcare leader? Take the next step toward a master's in business online now.
Request Info
1. The estimated time to complete your degree depends upon the number of credit hours taken each semester.
2. Scholarship opportunities available for eligible applicants who apply by designated early and priority application deadlines.
3. Rankings reflect the Weatherhead School of Management residential MBA programs.